Deep South Metal Roofing Supply | Florida's Preferred Metal Manufacturer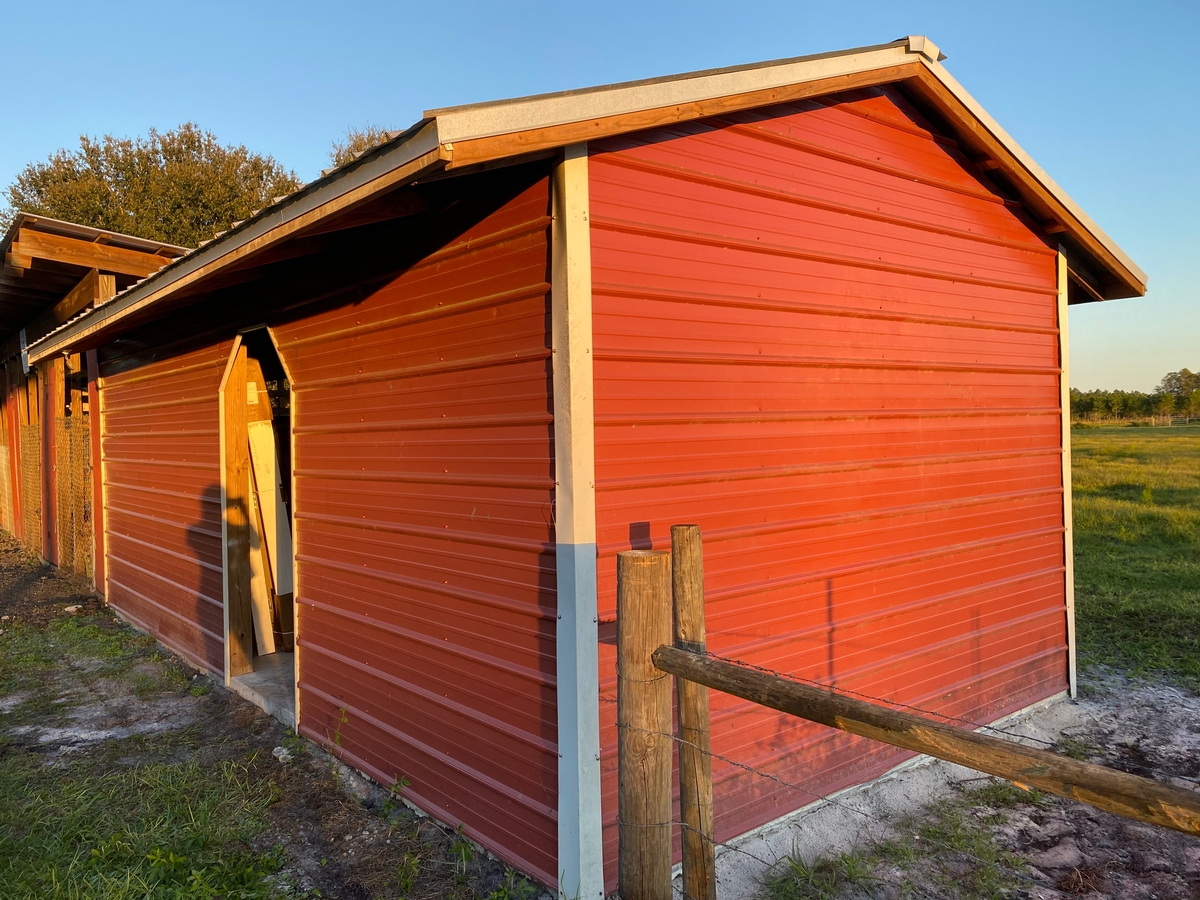 Deep South Metal Roofing Supply
Deep South Metals: High Quality Metal Roofing Supplies & Metal Manufacturer
Thank you for visiting Deep South Metals, where manufacturing meets southern hospitality. Serving our local communities with dedicated teamwork and traditional southern values, we strive for exceptional customer service and providing high quality products. We ensure safety is first followed closely with honest communication and building lasting relationships. Our values, which are: accountability, integrity, reliability, and kindness, are held dear to us.
Deep South Metals is a Christian based, family-owned metal roofing supply and roofing manufacturer. We are committed to providing high quality construction materials and exceptional customer service.
The owners started off as roofers and realized the demand for quality metal roofing supplies. They took what they knew of the roofing industry and created a company that other roofers could depend on. With over 38 years of roofing experience we know the metal roofing industry, what we sell is what they used as roofers and what they have heard other roofers prefer. We may be new but our knowledge is time tested and roofer approved.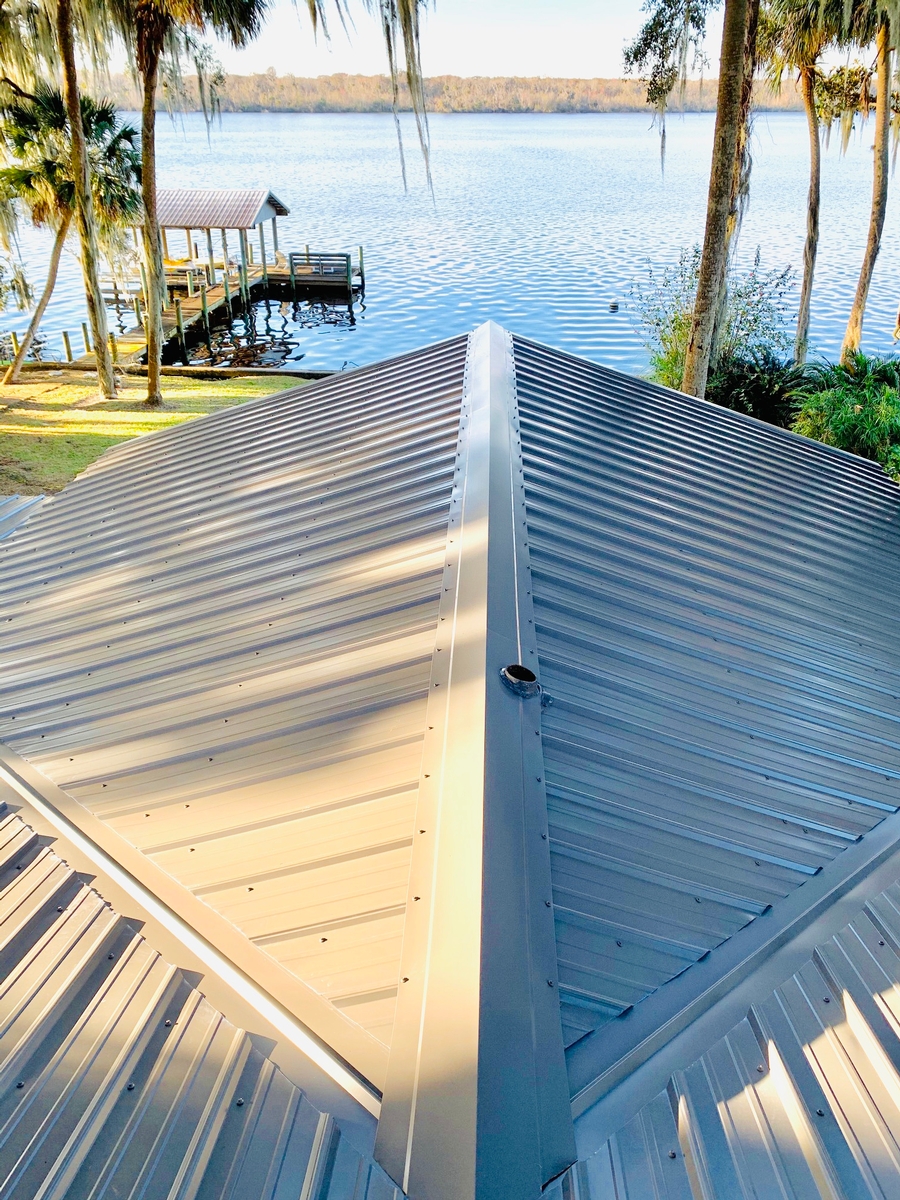 High Quality Metal Roofing Supply
We manufacture our high quality products on-site in 36 inch wide steel ribbed panels available in 26 & 29 gauge thicknesses with the ability to cut to any desired length. We offer our products in 17 Vibrant Colors including the traditional Silver Galvalume that are backed by Sherwin Williams reputable paints and impressive 25 or 40 year warranties.
One-stop-shopping for Roofing Contractors and DIY Homeowners for metal roofing supplies, so we carry a variety of other high quality products such as nails, screws, caulk, weather boots, lumber & plywood, underlayment, even bottled water.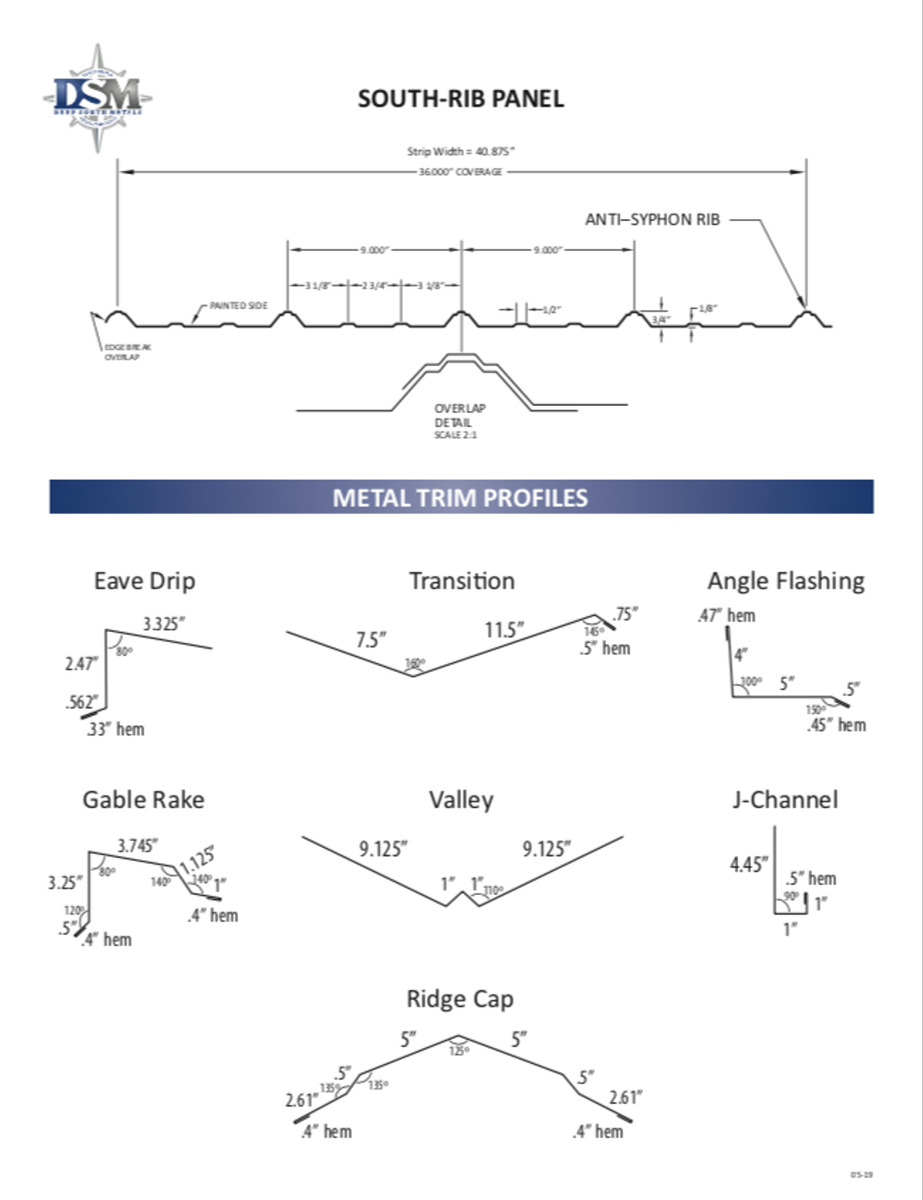 Why Choose Deep South Metals as Your Metal Roofing Supplier?
Our custom designed South Rib Panel was engineered by us here in the South!
We spent countless hours in our shop scrutinizing everything from weight ratios to tensile strengths. Quality and durability were at the core of our work before we made the decision on a final design and material selection.
Our panels are engineered to Save-You-Money and can be installed on three-foot centers
We offer delivery services on all orders and have a quick turnaround time. We value ourselves in honesty and integrity and we stand behind our products. We look forward to growing our business while helping you build yours. We understand that your success is our success and we choose to put our customers first.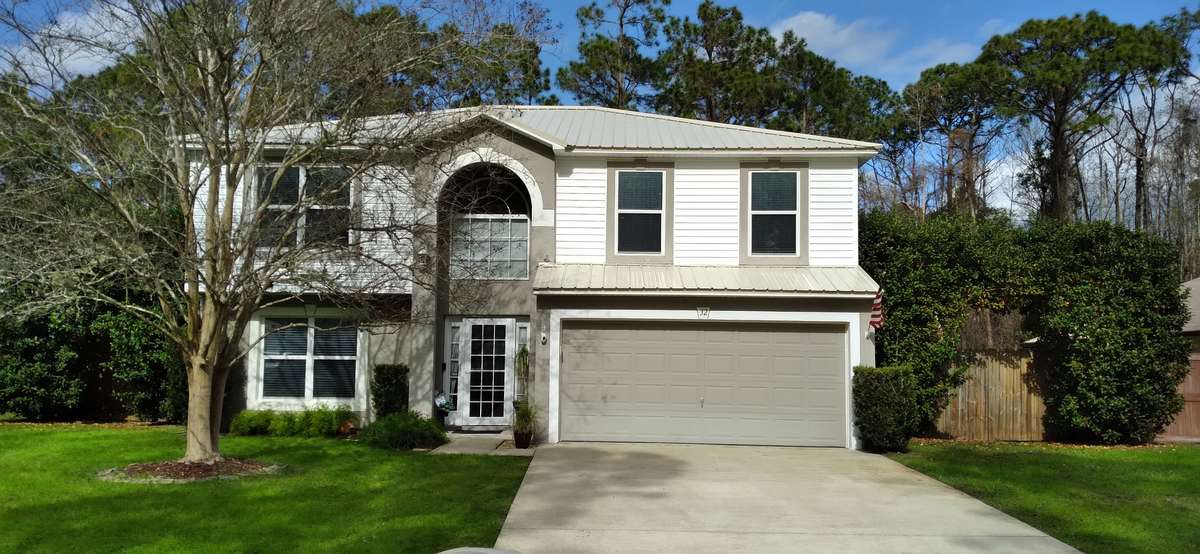 Frequently Asked Questions for Deep South Metals
What makes you Northeast Florida's Top Metal Roofing Supply?
Great question! Even though we are new, we are considered the top because we've been roofers ourselves since 1982. Which has taught us everything we need to know to ensure we are the best metal roofing supply near you.
Our metal is Grade 80 and our trim is Grade 50.
What is the difference between 26 gauge and 29 gauge?
29 gauge is slightly thinner than 26 gauge.
What is the width of the metal?
Our South Rib Panels come standard at 3' or 36''.
How many layers of coating is on your panels?
Our panels have 3 coats. A Top Coat (0.7 to 0.8 mils), Primer (0.2 to 0.3 mils), and a Pre-Treatment and Substate (0.2 to 0.3 mils).
What is the difference between the types of screws?
Below is listed some of our more popular screws. We also carry other types of screws depending on your project.
WoodZac - features a long life capped alloy head with a lifetime limited warranty against structural failure due to red rust corrosion on the head. A metal to wood screw, with a bonded washer that tucks under the cupped style 5/16'' drive head.
WoodGrip - metal roofing and post frame fasteners with an anti-corrosion coating. Has a bonded washer and a 1/4'' head drive.
Where in Florida are you located?
We are located in East Palatka, FL, which is about 1 hour south of Jacksonville. We serve the counties of Putnam, Flagler, St Johns, Clay, Duval, Volusia, Marion and Bradford as we as the communities of Palm Coast, St. Augustine, Jacksonville, Gainesville, Daytona, Ocala and surrounding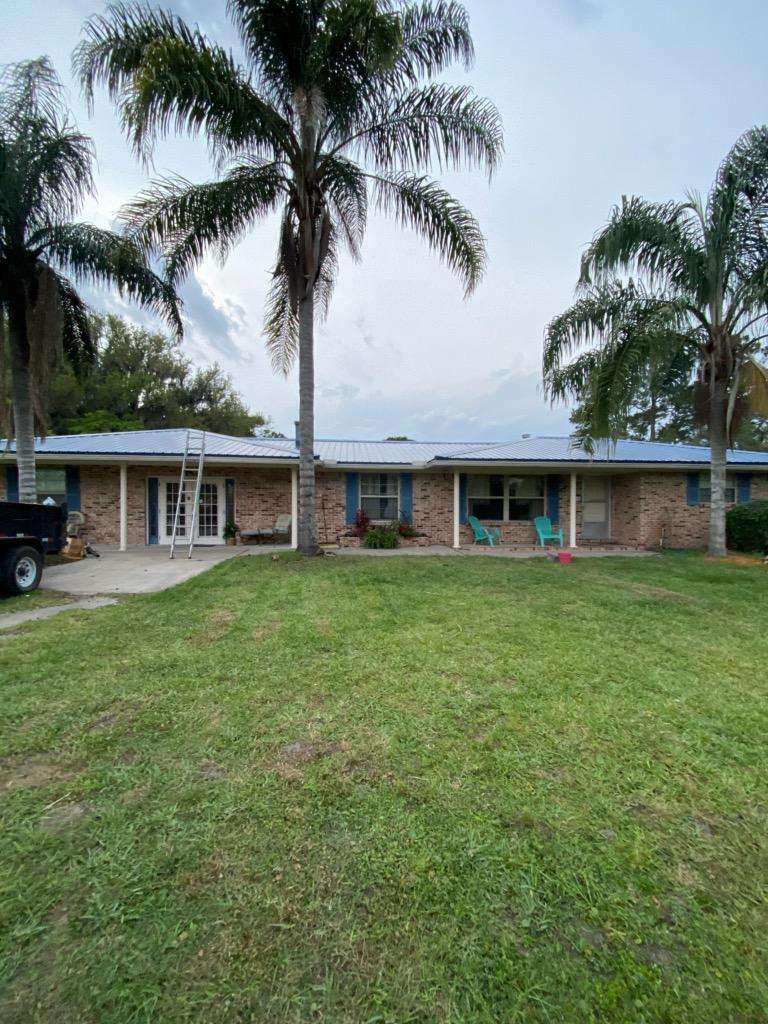 Reduced Pricing Overstock Available Every Day!
Additional Quality Designs & Products Include:
The Mighty Rib Design (industrial applications)
5-V Crimp Design
Standing Seam Design
Ridge Cap
Eave Drip
J-Channel Trim
Gable Trim
Sidewall
Valley
Transition Flashing
TPO / Boots / Screws
Fanfold Insulation Board
Closure Strips
Areas We Serve in Florida for Metal Roofing Supply
We serve the counties of Putnam, Flagler, St Johns, Clay, Duval, Volusia, Marion and Bradford as we as the communities of Palm Coast, St. Augustine, Jacksonville, Gainesville, Daytona, Ocala and surrounding areas.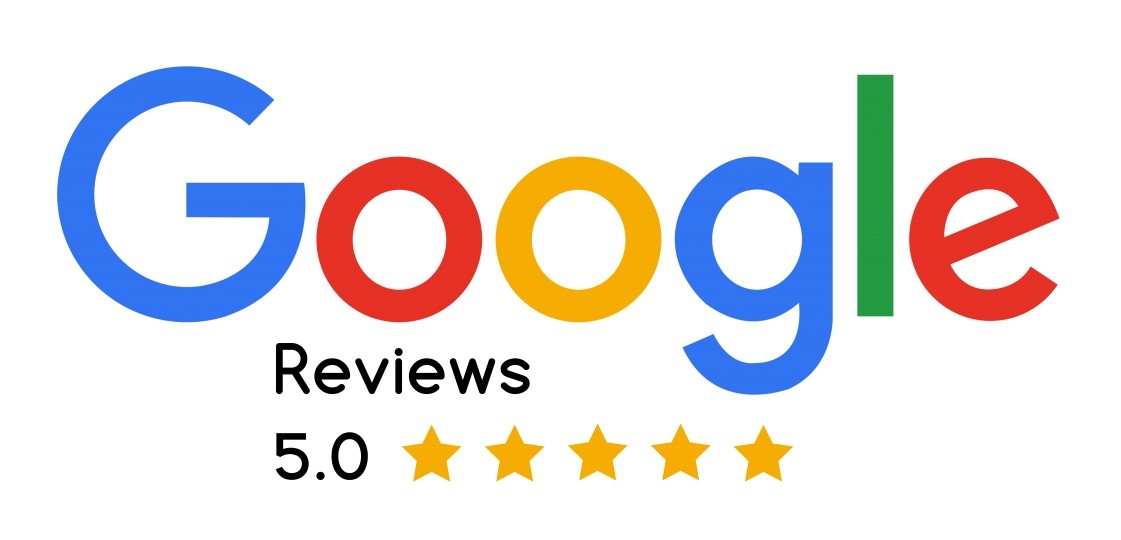 We Love Reviews at Deep South Metals!
Have you worked with us before? We want to hear from you!
Google reviews help our small business grow.
Click the link below to leave us a review on Google.